Creating Your Sponsor Page in the Mobile App
This resource is designed to help you build out your sponsor page in the PMDMC 2022 mobile app.
Not all options described on this page are available for all sponsors. Please refer to your agreement with Greater Public or contact Andrew Leitch (aleitch@greaterpublic.org) if you have questions.
Please submit all assets and changes using this form (also linked at the bottom of the page).
1. Your Primary Logo
This will be used on PMDMC.org and in our pre-roll video. Your logo can include a tagline. Please provides files in any of the following formats .ai, .eps, .pdf, .png or .jpg that are a minimum of 1200px wide. In most cases, we already have the file we need. You can see the files we're using below. Please get it touch if you'd to make a change.
2. A Square/Icon Logo
This is optional but highly recommended. The conference app makes extensive use of icons. Submitting a file that is optimized for square usage will help your brand look better! Also, note that in some cases the corners of the square image are rounded off. Examples below:
3. A Tag Line
These appear beneath your company name on your landing page. Aim for under 100 characters. Rich text is not supported.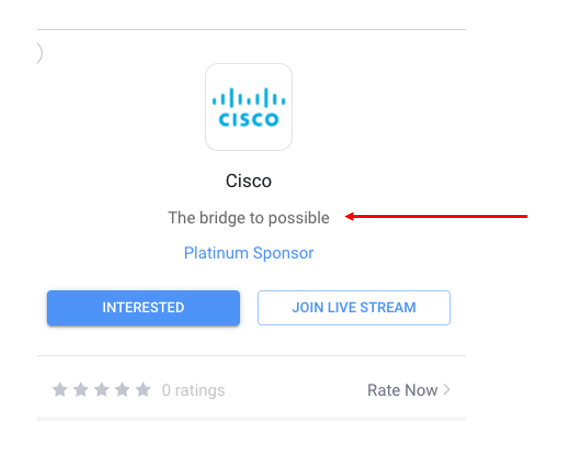 4. A Company Overview
The overview appears on your page right below your icon, tagline and call-to-action button. There are no specific length requirements. We are able to support rich text, hyperlinks, bullets, and numbering. Keep in mind that if you plan to provide related links, an extra long overview may mean a lot of scrolling for the attendee to access those links.
5. Call-to-Action Button
Each booth will have a "Request Follow Up" button. When an attendee clicks this link, an email will be generated to the primary contact from your company that shares the name, email, title, and company of the prospect (example below)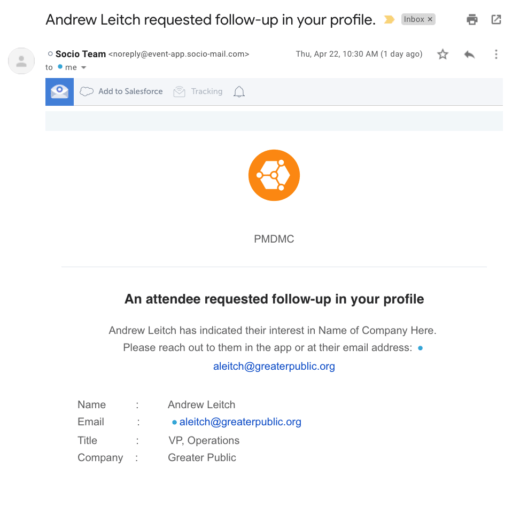 6. Primary Link and Other Links
The Socio platform provides the option to include various links to the webpages of your choosing.
A primary website link to your company website or any link of your choosing.
Additional external links (a YouTube video, job application, lead capture form, product listing page, etc.)
A few additional notes: 
By default, if a member of your team is presenting in the conference we will link that session on your page.
By default, if you are producing a sponsored breakout session, we will link to that session on your page.